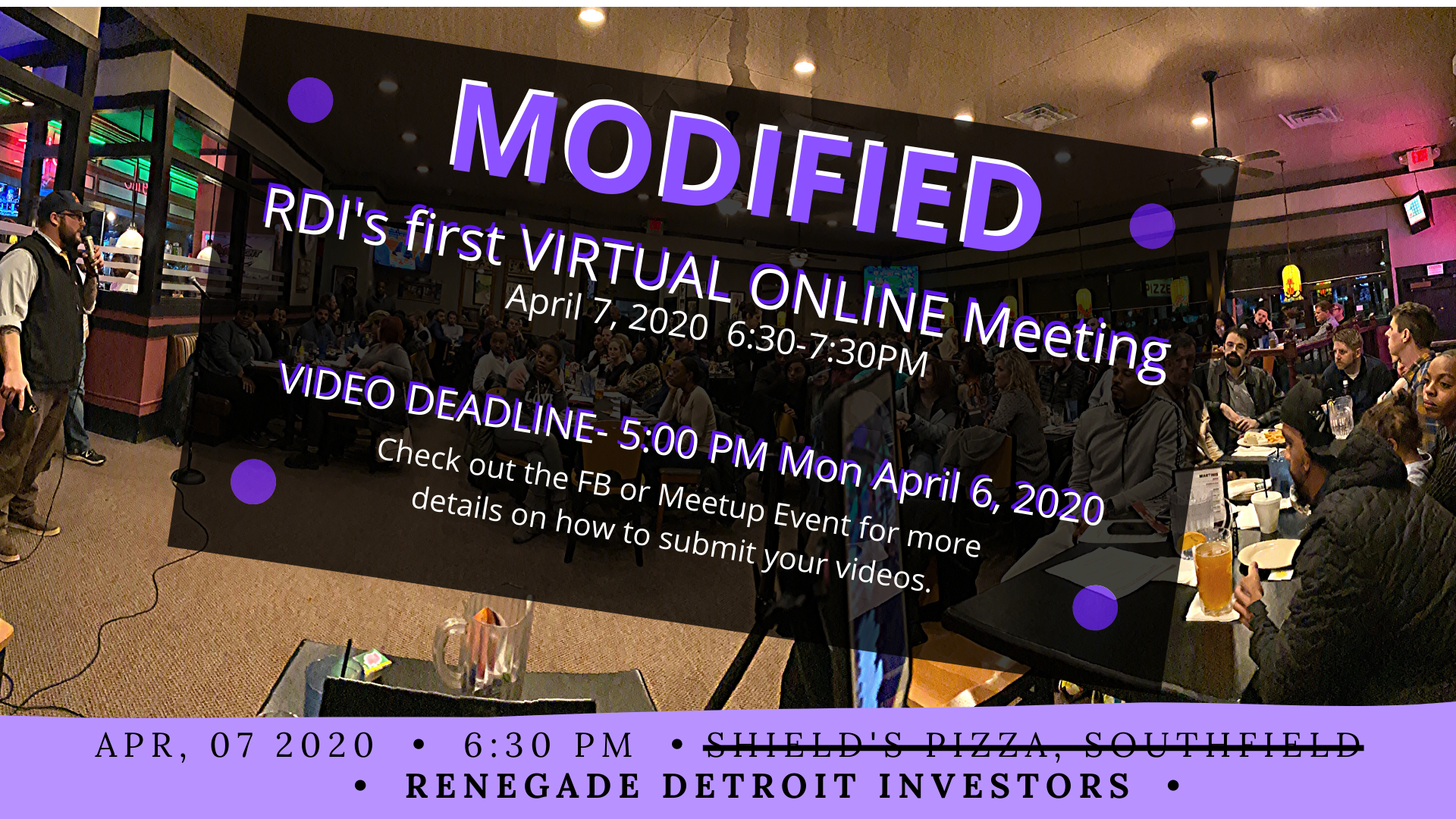 Renegade Detroit Investors ONLINE April 2020 Meeting
Quick Update as of Meeting Start Time: due to our slow  internet we are not getting the RDI meeting up tonight. Both Download and Upload speeds are terrible. We are working on it, thank you for your patience! We will post here when the video is ready! Thanks!
New beginnings, New Deals!
This will be the first virtual RDI meeting!
Here is what we are doing:
You are going to video record yourself and share it with Jeremy via dropbox.com. His dropbox email is jeremy@renegadedetroit.com.
Video Submission Deadline EXTENDED to 5pm MON, April 6, 2020
The videos do NOT have to be super fancy. You can record via your phone, title them, and share to Jeremy's dropbox. If you have questions, please let us know.
Rules:
1. You must share videos with Jeremy by dropbox only
2. NO VERTICAL VIDEO! Turn your phone or tablet to landscape
3. Follow upload format (3 separate videos):
a. Your Commercial -30 seconds max
b. Your Deal (assignment, deed, exclusive listing), must say
address and must say price and address- 3 minutes max
regardless of the number of deals.
c. Your Shameless Self Promotion- 40 seconds max
d. Video name example:
1. JeremyBurgessCommerical.mov
2. JeremyBurgessDeals.mov
3. JeremyBurgessShameless.mov
4. DO NOT include any copyrighted music or images
5. VIDEO DEADLINE- 5:00 PM April 6, 2020
6. Be a CREATIVE SAVAGE. This is an annoying way to
network and sell but it's also an amazing opportunity for
creative people to set themselves apart!
7. We will have the video edited into a meeting to be released via
YouTube and podcast at 630pm April 7, 2020.  (and posted here!)
That's it.
You could do nothing and rot your brain with more TV and politics or you could record your commercial, deal, or shameless self promotion and make some shit happen in your business.
I vote we do what we can with what we have where we are.
Your choice.
Be a Renegade
For More Info and updates, check out April's ONLINE meeting Facebook and Meetup Events.