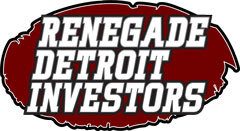 When I became a Renegade
I have always known that something wasn't right about what I was learning in school and even much of what my parents were teaching me financially. I studied and worked hard to learn it anyway and was diligent like a good boy should. All the while I knew it wasn't right. I didn't know what wasn't right; kind of like Neo in the movie, The Matrix.
Some of you may laugh at the comparison and I know that many of you know exactly how I feel and can identify with the feeling. This didn't stop me from doing exactly what I was taught to do and doing it well! I got all A's, I worked really long and hard hours, and even enrolled in college at one point. I did all of this in an effort to be financially free and independent. Of course it didn't work.
In the mean time I met my wife Jeanna and the thought of financial independence started to become an obsession. Luckily for me, my best friend Jason found an answer, real estate investing. While in Iraq Jason read some books on real estate investing and getting out of the rat race. He came back fired up about investing in real estate and his enthusiasm infected me as well. That was the exact moment I became a Renegade.
That was a little over 4 years ago and it seems like a life time. I have learned so much and an entire new world with different rules has been opened up to me. Rules that make sense, build wealth, and feel right; these are the rules that make me a Renegade. As a Renegade I also understand that building wealth is a long term strategy and not a get rich quick scheme. I was brainwashed for 25 years before I decided to head down the Renegade path and I have no regrets. Most importantly, I have learned to have patience with myself as I continue to unlearn years of bad programming.
For those of you wondering if you have the Renegade mentality, let me be specific. A Renegade Detroit Investor doesn't care if the economy is good or bad, he just makes money. A Renegade doesn't trust the government with his health, retirement, or progress; to hell with social security. Last but not least, a Renegade Detroit Investor immediately distrusts what the majority sees as safe and practical and knows instinctively that the opposite is most likely true.
For those of you who feel the same, you are not alone. Come join 50 Renegade Detroit Investors at our next meeting. The path to being a Renegade Detroit Investor is a path that starts scary and ends up feeling like you are walking home.
Make your life uncomfortable,
Jeremy Burgess
The Detroit Market Expert
Metro-Detroit Real Estate Business Group
Metro-Detroit Real Estate Blog
Detroit Real Estate
Get your Free Report on Detroit Real Estate
[tags]renegade, real, estate, independent, financial, free[/tags]